New Orleans is a city known for its vibrant culture, rich history, and lively atmosphere. From exploring the French Quarter to indulging in delicious cuisine and immersing yourself in the city's music scene, there are countless fun things to do in this incredible city. Whether you're a first-time visitor or a seasoned traveler, here are ten experiences that you shouldn't miss when you're in New Orleans!
Exploring the French Quarter
The heart and soul of New Orleans, the French Quarter, is a must-visit destination for any traveler. Steeped in history, this charming neighborhood is home to a plethora of historical landmarks, unique shopping experiences, and mouthwatering food and drink specialties.
Historical Landmarks in the French Quarter
One of the best ways to immerse yourself in the city's history is by exploring the historical landmarks in the French Quarter. From the iconic St. Louis Cathedral to the fascinating Presbytère and the captivating Cabildo, these landmarks tell the story of New Orleans' past.
As you stroll through the French Quarter, you'll be transported back in time. The St. Louis Cathedral, with its stunning architecture and rich history, is a true gem. Built in 1789, it is the oldest continuously active Roman Catholic cathedral in the United States. Step inside and marvel at the beautiful stained glass windows and intricate details that adorn the interior.
Next, make your way to the Presbytère, a historic building that once served as a residence for priests. Today, it houses the Louisiana State Museum's exhibits on Mardi Gras and the history of New Orleans. Explore the vibrant displays and learn about the traditions and customs that make this city so unique.
Just a short walk away, you'll find the Cabildo, a Spanish colonial building that played a significant role in the history of New Orleans. It was here that the Louisiana Purchase was signed in 1803, doubling the size of the United States. Take a guided tour and discover the fascinating stories behind this historic landmark.
Unique Shopping Experiences in the French Quarter
Browsing the shops in the French Quarter is an experience like no other. From local boutiques offering handcrafted jewelry and art galleries showcasing the works of talented local artists to antique shops filled with treasures from days long gone, there's something for everyone.
Start your shopping adventure on Royal Street, known for its art galleries and antique shops. Wander through the cobblestone streets and admire the stunning artwork on display. Whether you're a seasoned art collector or simply appreciate beautiful craftsmanship, you're sure to find something that catches your eye.
For those looking for unique and one-of-a-kind pieces, head to the French Market. This bustling open-air market is a treasure trove of local goods, including handmade crafts, clothing, and delicious local produce. Take your time to explore the stalls and strike up conversations with the friendly vendors, who are always happy to share stories about their products.
If you're a fan of fashion, Magazine Street is a must-visit. This vibrant street is lined with trendy boutiques and upscale shops, offering a wide range of clothing, accessories, and home decor. Browse through the racks and discover the latest fashion trends while supporting local designers and businesses.
Food and Drink Specialties in the French Quarter
No visit to New Orleans would be complete without indulging in the city's renowned culinary delights. From savoring mouthwatering beignets at Café du Monde to enjoying a traditional po' boy sandwich or a bowl of gumbo, the French Quarter is a food lover's paradise.
Start your day with a visit to Café du Monde, a New Orleans institution famous for its beignets and café au lait. These deliciously fluffy pastries, generously dusted with powdered sugar, are best enjoyed while sitting at one of the outdoor tables, watching the world go by. Pair them with a steaming cup of café au lait for the perfect breakfast treat.
For lunch, head to one of the many po' boy shops in the French Quarter. These iconic sandwiches are typically filled with fried seafood, such as shrimp or oysters, and dressed with lettuce, tomato, and mayonnaise. Sink your teeth into the crispy bread and savor the flavors of the Gulf Coast.
As the sun sets, treat yourself to a bowl of gumbo, a hearty and flavorful stew that is a staple of Creole and Cajun cuisine. Made with a rich roux, tender meat, and a medley of vegetables and spices, gumbo is the ultimate comfort food. Pair it with a refreshing cocktail, such as a Sazerac or a Hurricane, and toast to a day well spent in the French Quarter.
Experiencing New Orleans' Music Scene
New Orleans is often referred to as the birthplace of jazz, and its music scene is legendary. From intimate jazz clubs and lively bars to music festivals and events that showcase the city's diverse musical talent, there are countless opportunities to experience the soulful sounds of New Orleans.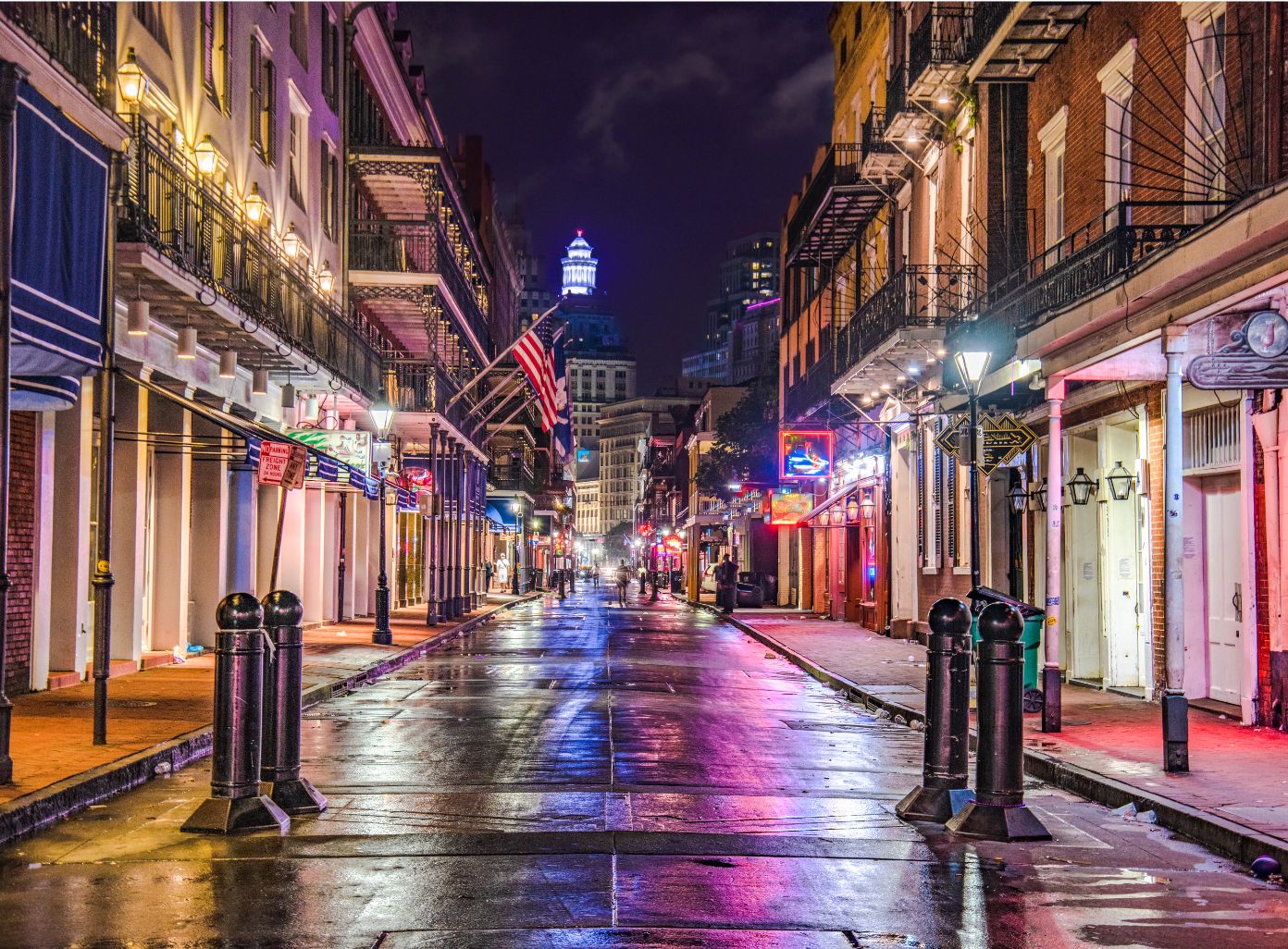 Jazz Clubs and Bars
Step into one of the city's iconic jazz clubs or lively bars, and you'll be transported to a world filled with smooth melodies and toe-tapping rhythms. Don't miss the opportunity to catch a live performance by talented local musicians and immerse yourself in the soul of the city.
Music Festivals and Events
New Orleans is home to an array of music festivals and events throughout the year. From the world-renowned New Orleans Jazz & Heritage Festival to the lively French Quarter Festival, these events offer a chance to experience the city's music scene at its finest.
New Orleans' Culinary Delights
Food plays a central role in New Orleans' culture, and the city is a food lover's paradise. From its famous Creole and Cajun cuisine to mouthwatering seafood specialties, exploring the culinary delights of New Orleans is an essential part of any visit.
Creole and Cajun Cuisine
Savor the flavors of New Orleans with a taste of Creole and Cajun cuisine. From traditional dishes like gumbo, jambalaya, and étouffée to delectable offerings like crawfish beignets and shrimp and grits, every bite is a delicious adventure.
Seafood Specialties
As a city located near the Gulf of Mexico, New Orleans is known for its fresh and flavorful seafood. Indulge in dishes like chargrilled oysters, boiled crawfish, and blackened redfish to experience the true taste of the city.
Outdoor Activities in New Orleans
In addition to its vibrant city life, New Orleans also offers a variety of outdoor activities. Explore the city's parks and green spaces, take part in water activities and sports, and enjoy the beautiful natural surroundings that New Orleans has to offer.
Parks and Green Spaces
Take a break from the hustle and bustle of the city and immerse yourself in nature at one of New Orleans' many parks and green spaces. From the picturesque City Park with its lush gardens and walking trails to the scenic Audubon Park, there's always a peaceful spot to relax and unwind.
Water Activities and Sports
With its location on the Mississippi River and close proximity to the Gulf of Mexico, New Orleans offers plenty of opportunities for water activities and sports. From paddleboarding along the Bayou St. John to taking a steamboat cruise down the Mississippi River, there's something for water enthusiasts of all kinds.
The Art and Culture of New Orleans
New Orleans is a city that is steeped in art and culture. From its world-class museums and art galleries to its vibrant cultural festivals and events, there's always something to inspire and captivate visitors to the city.
Museums and Art Galleries
Immerse yourself in the city's art and history by visiting its museums and art galleries. From the New Orleans Museum of Art, which houses an impressive collection of artwork, to the Ogden Museum of Southern Art and the Contemporary Arts Center, there's a wealth of artistic treasures waiting to be discovered.
Cultural Festivals and Events
New Orleans is known for its lively cultural festivals and events that celebrate the city's unique heritage. From the vibrant Mardi Gras festivities to the soul-stirring sounds of the New Orleans Jazz & Heritage Festival and the colorful celebration of the French Quarter Festival, the city's cultural calendar is always filled with excitement.
With its vibrant culture, fascinating history, and lively atmosphere, New Orleans offers endless possibilities for fun and adventure. Whether you're exploring the French Quarter, indulging in the city's culinary delights, immersing yourself in the music scene, or discovering the city's art and culture, a visit to New Orleans is guaranteed to be a memorable experience.