Looking to plan an exciting vacation? Look no further than Colorado Springs! With its stunning natural beauty, rich history, and abundance of activities, this picturesque city has something for everyone. Whether you're an outdoor enthusiast, a history buff, a foodie, or a family traveler, Colorado Springs has it all. Here are 25 exciting things to do during your visit.
1. Exploring the Great Outdoors
Colorado Springs is a nature lover's paradise, boasting an array of outdoor activities for all skill levels. Lace up your hiking boots and embark on one of the many picturesque trails that wind through the city's majestic mountains and forests.
With its stunning views, the Manitou Incline is a must-visit for those seeking a challenging hike. Ascend over 2,000 feet in elevation gain in less than a mile and be rewarded with breathtaking vistas.
For a more leisurely stroll, head to the Garden of the Gods. This iconic park features towering red rock formations that will leave you in awe.
Hiking Trails Worth the Trek
The Colorado Springs area is home to a plethora of hiking trails, each offering its own unique charm. One trail that should not be missed is the Seven Bridges Trail. Follow the trail as it meanders alongside a babbling creek, crossing seven rustic bridges along the way.
If you're up for a challenge, tackle the Barr Trail. This 12-mile trail will lead you to the summit of Pikes Peak, the most famous mountain in Colorado. The panoramic views from the top are simply breathtaking.
Water Activities for the Adventurous
When the sun is shining and you're yearning for some water-based adventure, head to the Arkansas River for white water rafting. Perfect for thrill-seekers of all ages, this exhilarating activity will get your adrenaline pumping.
If you prefer a more tranquil experience, rent a paddleboard or kayak and explore the shimmering waters of Rampart Reservoir. Surrounded by pristine mountain peaks, this scenic reservoir offers a peaceful retreat.
Wildlife Encounters in Colorado Springs
Get up close and personal with Colorado's wildlife at the Cheyenne Mountain Zoo. Home to over 800 animals, including giraffes, lions, and elephants, this world-renowned zoo offers unique experiences such as feeding the giraffes.
For an even wilder adventure, take a guided tour of the Colorado Wolf and Wildlife Center. Learn about these fascinating creatures and even have the chance to interact with them in a controlled environment.
2. Delving into History and Culture
Colorado Springs has a rich history waiting to be explored. Immerse yourself in the past by visiting one of the city's many museums.
The Colorado Springs Pioneers Museum offers a glimpse into the city's colorful history. Featuring exhibits on Native American culture, the gold rush era, and the development of Colorado Springs, this museum is a treasure trove of information.
Museums that Capture the Past
Step back in time at the Ghost Town Museum. This living history museum takes you on a journey through the Old West, with interactive exhibits and artifacts that transport you to the days of cowboys and gold miners.
If art is more your style, head to the Colorado Springs Fine Arts Center. With its impressive collection of contemporary and indigenous art, this cultural gem is sure to inspire.
Art Galleries and Exhibitions
Colorado Springs is a haven for art enthusiasts, with its thriving gallery scene. Take a stroll through the Old Colorado City Art Walk, where you can admire the works of local artists and perhaps even find a unique piece to bring home.
For a world-class art experience, visit the Colorado Springs Museum of Art. With its diverse collection of paintings, sculptures, and installations, this museum is a true cultural hub.
Historical Landmarks to Visit
No trip to Colorado Springs would be complete without a visit to the iconic Air Force Academy Chapel. This architectural masterpiece is a symbol of national pride and offers breathtaking views of the surrounding area.
For a glimpse into the city's mining heritage, head to the Western Museum of Mining and Industry. Explore the exhibits and learn about the region's rich mining history through interactive displays and guided tours.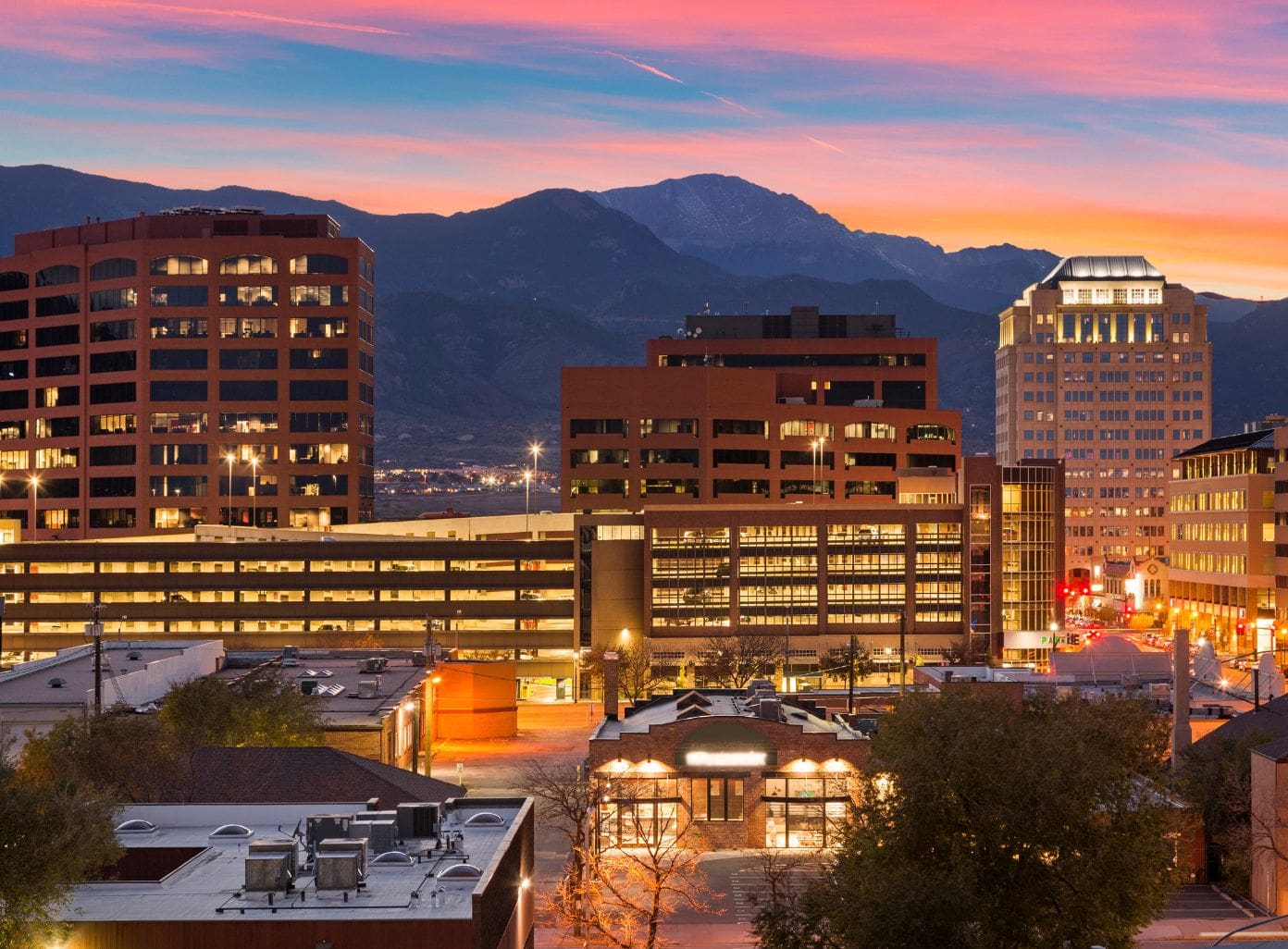 3. Food and Drink Experiences
When it comes to culinary delights, Colorado Springs has plenty to offer. From local cuisine to wineries and breweries, there's no shortage of options to satisfy your taste buds.
Local Cuisine to Try
Indulge in the flavors of the region at one of Colorado Springs' many farm-to-table restaurants. From bison burgers to Colorado lamb chops, these establishments showcase the best of local ingredients and flavors.
For a taste of Colorado's famous green chiles, head to one of the city's Mexican restaurants. Whether you prefer them smothered on a burrito or as a sauce for your enchiladas, these spicy delights are sure to leave you craving more.
Wineries and Breweries for the Connoisseur
If you're a wine enthusiast, a visit to the Winery at Holy Cross Abbey is a must. Take a tour of the vineyard, sample their award-winning wines, and soak in the picturesque views of the surrounding countryside.
For beer lovers, Colorado Springs is home to a vibrant craft beer scene. Take a tour of one of the local breweries, such as Bristol Brewing Company or Red Leg Brewing Company, and discover unique flavors that will tantalize your taste buds.
Unique Dining Experiences
Looking for a dining experience unlike any other? Make a reservation at the Penrose Room, located atop the historic Broadmoor Hotel. Indulge in gourmet cuisine while enjoying panoramic views of the city and the Rocky Mountains.
If you're craving something sweet, head to the Old Colorado City Creamery, where you can sample homemade ice cream flavors that will transport you back to your childhood.
4. Family-Friendly Activities
Colorado Springs is a fantastic destination for families, with its wide range of activities that are sure to keep kids of all ages entertained.
Parks and Playgrounds for Kids
Visit the North Cheyenne Cañon Park, where you can explore miles of hiking trails and let the kids burn off some energy at one of the park's many playgrounds. Pack a picnic and enjoy a day surrounded by nature.
For a truly unique experience, visit the Bear Creek Nature Center. This interactive nature center offers hands-on exhibits and guided hikes that will educate and entertain the whole family.
Educational Attractions for the Whole Family
Expand your knowledge at the Space Foundation Discovery Center. Learn about space exploration, take a virtual journey to Mars, and even experience what it's like to be an astronaut through interactive exhibits and simulators.
If you're looking for an educational adventure that's also outdoor-oriented, head to the May Natural History Museum. This fascinating museum showcases one of the world's largest private insect collections, as well as dinosaur fossils and Native American artifacts.
Fun and Games: Amusement Parks and Arcades
For a day of thrill rides and excitement, visit the Santa's Workshop amusement park. This charming park features classic rides, shows, and even the opportunity to meet Santa himself.
If you're in the mood for some friendly competition, head to the Manitou Springs Penny Arcade. Step back in time as you play vintage arcade games and try your luck at winning prizes.
With its abundance of outdoor adventures, rich history, diverse culinary scene, and family-friendly activities, Colorado Springs truly has something for everyone. So pack your bags, lace up your hiking boots, and get ready for an unforgettable vacation in this breathtaking city.