Looking for a city that has it all? Look no further than Denver, Colorado. Known as the Mile High City, Denver offers a wide array of activities and attractions that are sure to keep you entertained. Whether you're a history enthusiast, an adrenaline junkie, a lover of the arts, or a foodie, Denver has something for everyone. In this article, we'll explore 25 exciting things to do in Denver, so get ready to pack your bags and embark on an unforgettable adventure.
Exploring Denver's Rich History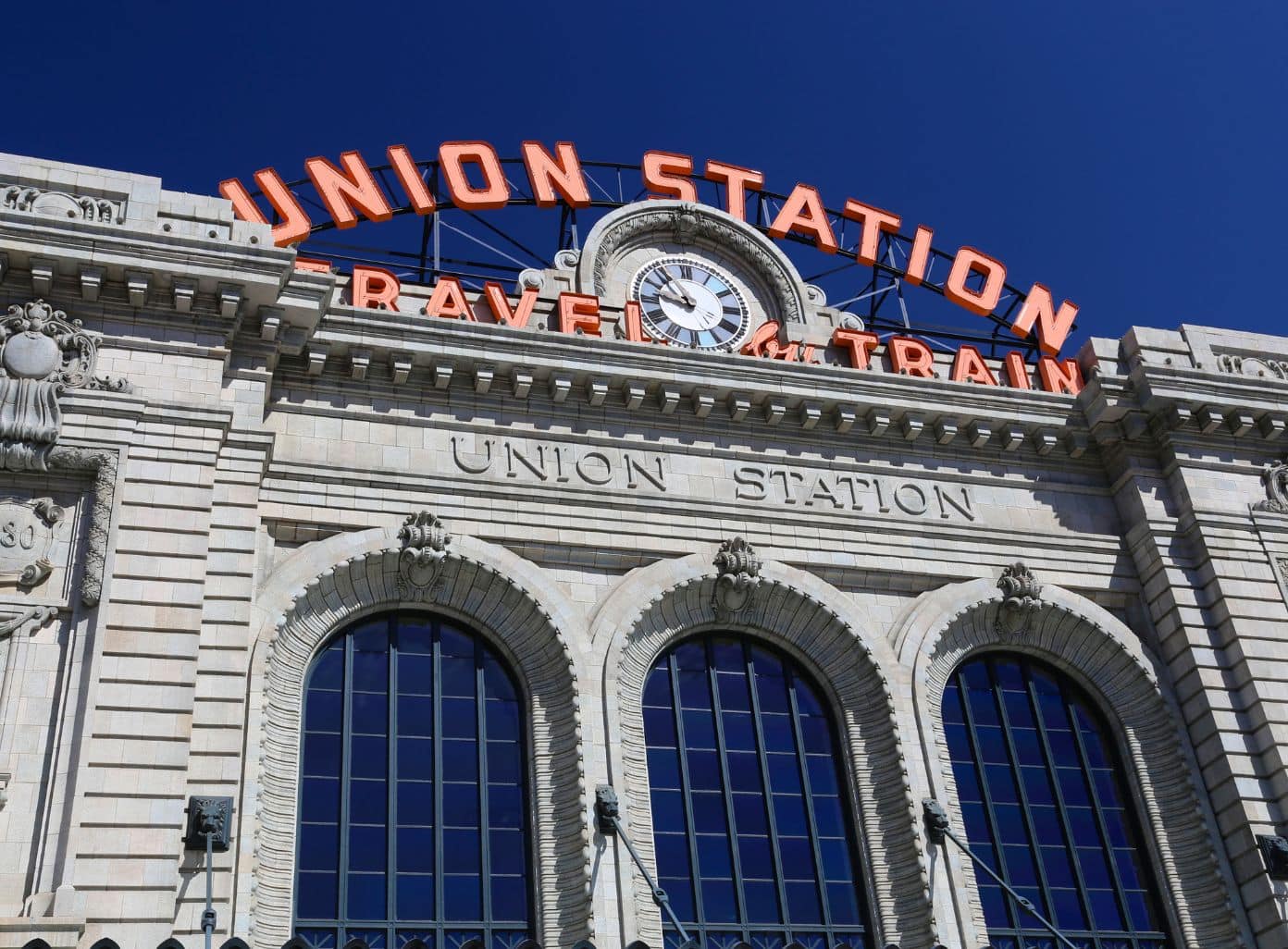 Visiting Denver's Historic Landmarks
One of the best ways to immerse yourself in Denver's rich history is by visiting its historic landmarks. Start your journey at the iconic Union Station, a gorgeous Beaux-Arts building that dates back to 1881. Take a stroll along the 16th Street Mall, a pedestrian-friendly street lined with shops and restaurants, and make your way to the State Capitol Building, where you can take a guided tour and even climb to the top for breathtaking views of the city.
Next, head to Larimer Square, one of Denver's oldest streets and a hub of vibrant dining and shopping. Don't miss the opportunity to explore the Molly Brown House Museum, the former home of the famous Titanic survivor, Margaret Brown. Here, you'll learn about her incredible life and the history of Denver during the early 20th century.
Museums and Galleries Worth Your Time
If you're a fan of art and culture, Denver won't disappoint. Start your cultural journey at the Denver Art Museum, a stunning architectural masterpiece that houses an impressive collection of American Indian art and other renowned works. Explore the Museum of Contemporary Art Denver, which features cutting-edge exhibits and thought-provoking installations.
For a unique experience, visit the Denver Museum of Nature & Science, where you can marvel at dinosaur fossils, learn about the solar system, and even watch a planetarium show. If you're interested in aviation and space exploration, be sure to check out the Wings Over the Rockies Air & Space Museum, where you can see vintage aircraft and learn about the history of flight.
Outdoor Adventures in Denver
Hiking Trails in and Around Denver
For those who love the great outdoors, Denver offers plenty of opportunities for adventure. Lace up your hiking boots and tackle the stunning trails in and around the city. One must-visit spot is Red Rocks Park and Amphitheatre, where you can hike among towering red rock formations and catch a concert at the iconic open-air amphitheater.
If you're up for a challenge, head to Mount Evans, one of Colorado's famous "fourteeners." The Summit Lake Trail offers breathtaking views, and if you're lucky, you might even spot some mountain goats along the way. Another popular hiking destination is the Garden of the Gods, located just outside of Denver, where you can marvel at the towering sandstone rock formations.
Water Sports Activities in Denver
Just because Denver is a landlocked city doesn't mean you can't enjoy water sports. Head to Confluence Park, where you can try your hand at kayaking or rafting on the South Platte River. If you prefer a more relaxed experience, rent a paddleboard or a pedal boat and explore the park's tranquil waters.
For a unique adventure, visit Cherry Creek State Park, where you can go fishing, boating, or even windsurfing on Cherry Creek Reservoir. The park also offers beautiful hiking and biking trails, as well as campsites, making it a perfect destination for outdoor enthusiasts.
Denver's Vibrant Nightlife
Top Bars and Clubs in Denver
When the sun sets, Denver comes alive with its vibrant nightlife scene. Start your evening at Larimer Square, where you'll find a wide variety of bars and restaurants to suit every taste. Enjoy craft cocktails at Death & Co, a renowned cocktail lounge with a speakeasy vibe.
For beer lovers, a visit to Denver wouldn't be complete without a stop at the Great Divide Brewery. Take a tour of their facility and sample some of their award-winning craft beers. If you're in the mood for dancing, head to Temple Nightclub, a state-of-the-art venue that hosts internationally acclaimed DJs.
Evening Shows and Performances
Denver is also a hub for live performances and entertainment. Catch a Broadway show at the Denver Center for the Performing Arts, which hosts touring productions of some of the biggest shows in the world. For a more intimate experience, check out the Bluebird Theater, a historic venue that showcases local and national bands.
If you're a fan of comedy, make sure to visit Comedy Works, where you can catch performances by some of the funniest comedians in the country. With its lively atmosphere and talented performers, Denver's comedy scene is not to be missed.
Food and Drink Experiences in Denver
Best Local Cuisine to Try in Denver
No visit to Denver would be complete without indulging in its diverse culinary scene. Start your food adventure by trying some delicious green chili, a staple of Denver cuisine. Head to Sam's No. 3, a local institution known for its mouthwatering green chili smothered breakfast burritos.
For a taste of Colorado's wild game, head to The Fort, an iconic restaurant that serves bison, elk, and other local specialties in a historic setting. Don't forget to try the Rocky Mountain Oysters, a true Colorado delicacy!
Denver's Unique Breweries and Wineries
Beer and wine enthusiasts will be delighted by Denver's thriving craft beverage scene. Start your brewery tour at the Great Divide Brewing Company, known for its innovative and bold beers. Next, visit Wynkoop Brewing Company, Colorado's first brewpub, and enjoy their extensive selection of handcrafted beers.
If wine is more your style, head to The Infinite Monkey Theorem, an urban winery that produces its wine right in the heart of Denver. Take a tour of their facility and sample their unique and delicious wines. The Mile High City has something for everyone when it comes to satisfying your palate.
Family-Friendly Activities in Denver
Fun and Educational Attractions for Kids
Traveling with kids? Don't worry, Denver has plenty of family-friendly activities to keep the little ones entertained. Start your day at the Denver Zoo, where you can see a wide variety of animals from around the world. Kids will love the opportunity to feed giraffes or get up close to penguins.
Next, head to the Denver Museum of Nature & Science, where kids can learn about dinosaurs, space, and everything in between. For a hands-on experience, visit the Children's Museum of Denver, where kids can explore interactive exhibits and unleash their creativity.
Parks and Recreation Areas for Family Outings
Denver boasts a plethora of parks and recreation areas perfect for family outings. Start your adventure at City Park, where you can take a leisurely stroll around the picturesque lake or have a picnic under the shade of the towering trees. Let the kids run wild at Wash Park, a sprawling park with playgrounds, sports fields, and even a boating lake.
Don't miss the opportunity to visit the Denver Botanic Gardens, a stunning oasis in the heart of the city. Explore the various gardens, each with its unique theme, and take in the beauty of the diverse plant life. With its abundance of parks and green spaces, Denver is an ideal destination for families looking to spend quality time outdoors.
There you have it, 25 exciting things to do in Denver. Whether you're exploring its rich history, seeking thrilling outdoor adventures, experiencing its vibrant nightlife, indulging in its culinary delights, or enjoying family-friendly activities, Denver offers an unforgettable experience for every type of traveler. So what are you waiting for? Start planning your trip to the Mile High City and get ready for an adventure-filled getaway.