San Francisco has become a mecca for ramen enthusiasts, with a diverse range of ramen spots that cater to every palate. Whether you're a fan of traditional tonkotsu broth or prefer unique fusion flavors, this guide will take you on a culinary journey through the city's best ramen destinations. Prepare yourself for a mouthwatering adventure that will leave you craving more!
The Ultimate Guide to Ramen in San Francisco
If you're a ramen lover, you've come to the right place. San Francisco is home to a vibrant ramen scene that offers an array of flavors and styles. From cozy mom-and-pop shops to trendy establishments, you'll find it all here. Let's dive into the top ramen spots that should be on every food lover's radar.
Exploring the Top Ramen Spots in San Francisco
When it comes to ramen, San Francisco has some iconic establishments that have stood the test of time. One such spot is Ramen Shop, located in Oakland. Known for their creative takes on classic ramen, this place combines local ingredients with traditional cooking techniques to produce bowls that are bursting with flavor.
Another must-visit is Izakaya Sozai in the Inner Sunset neighborhood. With its cozy ambiance and a menu that features both traditional and innovative ramen options, this place has gained a loyal following among locals. Don't miss their Shio Ramen, a refreshing and delicate broth that will transport you to the streets of Tokyo.
Uncovering the Hidden Gems of San Francisco's Ramen Scene
If you're looking for hidden gems, you won't be disappointed. Head over to Katana-ya in the Japantown neighborhood for a truly authentic experience. This tiny ramen joint may not look like much from the outside, but their flavorful bowls will leave you craving more. Be sure to try their Miso Ramen, which strikes the perfect balance between umami and richness.
For those seeking a modern twist on ramen, look no further than Orenchi Beyond in Mission District. With its sleek decor and innovative toppings, this place is a favorite among foodies. Their Spicy Tonkotsu Ramen is a revelation – a creamy and fiery bowl that will satisfy even the most discerning palate.
A Taste of Japan in San Francisco: Best Ramen Restaurants
If you're yearning for an authentic taste of Japan, look no further than Marufuku Ramen in the Outer Richmond neighborhood. This spot is known for its rich and flavorful tonkotsu broth, tender Chashu pork, and perfectly cooked noodles. Be prepared to wait in line, as this place tends to get crowded – but trust us, it's worth the wait!
Another gem that brings the flavors of Japan to San Francisco is Men-Oh Tokushima Ramen in the Tenderloin neighborhood. This establishment specializes in Tokushima-style ramen, known for its soy-based broth and thin noodles. Their Tonkotsu Ramen is a fan favorite, with its hearty and savory flavor that will transport you straight to the streets of Tokyo.
Ramen Delights Beyond San Francisco: Peninsula Edition
If you're willing to venture beyond the city limits, the Peninsula offers its own share of ramen delights. Here are a few spots that should be on your radar.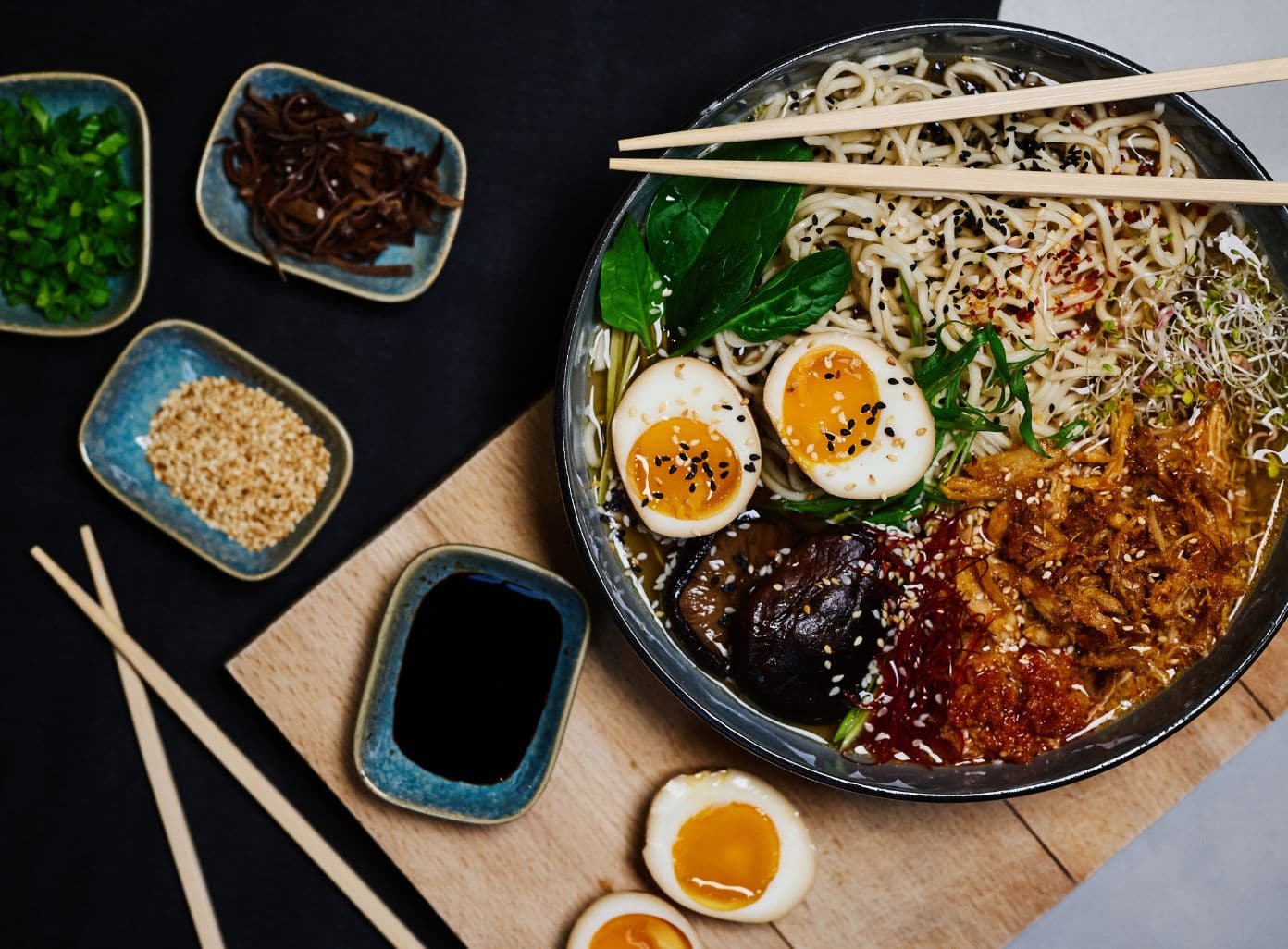 Peninsula's Must-Try Ramen Joints
Located in San Mateo, Noodle Talk has gained a reputation for its comforting bowls of ramen. Their secret is in the slow-cooked broth, which results in a depth of flavor that is simply divine. Don't miss their Spicy Miso Ramen – a perfect balance of heat and complexity.
If you find yourself in the Burlingame area, make sure to visit Ramen Dojo. Known for its bold and flavorful broth, this place is not for the faint of heart. Their Garlic Tonkotsu Ramen is a garlic lover's dream, packed with powerful flavors that will make your taste buds sing.
For those exploring the South Bay, there are a few standout ramen spots that warrant a visit.
In San Jose, Hanamaru is a local favorite. This no-frills establishment focuses on quality ingredients and traditional cooking techniques. The result? Delicious bowls of ramen that will transport you to Japan. Try their Shoyu Ramen for a classic and comforting experience.
If you're in Palo Alto, don't miss out on Ramen Nagi. This spot brings a unique twist to ramen by allowing you to customize your bowl according to your preferences. With options like spice level and toppings, you can truly make your ramen experience your own.
The Best Ramen in Los Angeles
Los Angeles is another city that has embraced the ramen craze. From Hollywood to Little Tokyo, there are plenty of options to satisfy your ramen cravings.
Los Angeles' Top Ramen Destinations
One place that consistently ranks among the top ramen spots in LA is Tsujita LA Artisan Noodle in the Sawtelle neighborhood. Known for its rich and creamy tonkotsu broth, this spot offers a true taste of Japan. Be sure to try their Tsukemen, a style of ramen where the noodles are served separately and dipped into the flavorful broth.
If you're looking for a unique fusion experience, head over to Daikokuya in Little Tokyo. This iconic establishment combines traditional Japanese flavors with a hint of Mexican influence. Their Miso-Hot Ramen is a testament to this fusion, with its bold blend of spices and umami-rich broth.
Discovering LA's Ramen Hotspots
Another must-visit hotspot is Killer Noodle in Sawtelle. This place is not for the faint of heart – their ramen is known for its intimidating spice levels. If you're up for the challenge, try their Tsukemen with "Reaper" sauce, and prepare for a fiery and unforgettable experience.
Finally, Ramen Hood in Downtown LA offers a vegan twist on ramen that will surprise and delight even the most carnivorous ramen lover. Their plant-based broth is infused with bold flavors, and their homemade noodles are a treat in themselves.
Ramen Adventures in San Francisco: North Bay Edition
If you find yourself in the North Bay, fear not – there are ramen establishments that are worth the detour.
North Bay's Finest Ramen Establishments
In Novato, Shoyu Ramen House offers a cozy and inviting atmosphere, perfect for enjoying a warm bowl of ramen. Their Shoyu Ramen is a classic choice, with its well-balanced soy-based broth and tender slices of pork.
If you're in Santa Rosa, make sure to add Jeffy's Ramen & Sushi to your list. This hidden gem offers a unique blend of Japanese and Filipino flavors, resulting in bowls that are bursting with savory goodness. Try their Kimchi Ramen for a spicy and tangy delight.
Ramen Delicacies in the North Bay: Where to Indulge
For those seeking a truly indulgent experience, look no further than Eastsider in Petaluma. This establishment takes ramen to the next level by offering gourmet toppings like truffle oil and foie gras. Their attention to detail and dedication to quality make each bowl a work of art.
Another standout spot in the North Bay is Yui's Ramen in Napa. This cozy ramen joint offers a range of options to suit every palate, from traditional tonkotsu to adventurous seafood variations. Pair your ramen with a glass of local Napa Valley wine for the ultimate dining experience.
San Francisco and its surrounding areas truly offer a ramen paradise for food lovers. Whether you're craving authentic flavors from Japan or seeking innovative fusion creations, you'll find it all here. Embark on a ramen adventure and discover why this humble dish has taken the food world by storm!