In a city known for its dazzling lights, world-class entertainment, and over-the-top experiences, it's no surprise that Las Vegas is also home to some of the best buffets in the world. With so many options to choose from, it can be overwhelming for visitors to decide where to indulge their taste buds. But fear not, as we have compiled the ultimate guide to the best buffets on the Las Vegas Strip. Whether you're a novice or a seasoned Las Vegas visitor, these buffets are sure to satisfy every craving.
Must-Try Buffets for Vegas Newbies
For those new to the Las Vegas buffet scene, we recommend starting your culinary journey at these top-notch establishments.
Indulge in Extravagance at the Wynn Las Vegas Buffet
As soon as you step foot into the Wynn Las Vegas Buffet, you'll be transported to a world of luxury and opulence. The grand entrance, adorned with sparkling chandeliers and elegant decor, sets the stage for an unforgettable dining experience. With an array of culinary delights meticulously prepared by skilled chefs, this buffet is a feast for the senses. The aroma of freshly baked bread fills the air as you make your way through the various food stations. From succulent seafood to made-to-order pasta, the options are endless. Don't miss the chance to savor the delectable desserts that are as beautiful as they are delicious. Indulge in a slice of the rich chocolate cake or a perfectly crafted macaron. The Wynn Las Vegas Buffet truly offers a memorable dining experience that will leave you craving more.
A Culinary Adventure at Wicked Spoon, The Cosmopolitan's Gem
The Cosmopolitan's Wicked Spoon buffet is a must-visit for those seeking a unique and adventurous dining experience. This buffet takes the concept of "small plates" to a whole new level, offering a vast assortment of dishes inspired by global cuisines. As you enter the dining area, you'll be greeted by a vibrant and eclectic atmosphere. The walls are adorned with colorful murals depicting scenes from around the world, setting the stage for a culinary adventure. From Asian flavors to Mediterranean delights, you'll find your taste buds dancing with delight. Be sure to sample the famous macaroni and cheese, which is a favorite among visitors. The creamy, cheesy goodness will transport you back to childhood. Wicked Spoon is the perfect place to broaden your culinary horizons and try dishes you may have never encountered before. Don't be afraid to step out of your comfort zone and explore the bold flavors and unique combinations that this buffet has to offer.
Bellagio's Buffet: A Feast Fit for Royalty
When it comes to buffets in Las Vegas, Bellagio's Buffet holds a special place in the hearts of many food enthusiasts. Known for its elegant setting and impeccable service, this buffet offers a regal dining experience. As you enter the dining room, you'll be greeted by the sight of beautifully arranged tables adorned with fine china and crystal glassware. The soft lighting and soothing music create a tranquil ambiance, perfect for enjoying a leisurely meal. Feast your eyes on a vast selection of dishes, ranging from classic American comfort food to international delicacies. The live-action cooking stations ensure that each dish is prepared to perfection. Watch as skilled chefs toss fresh ingredients into sizzling pans, creating aromatic stir-fries and flavorful pasta dishes. Don't forget to save room for the indulgent desserts, such as the famous chocolate fountain. Dip juicy strawberries and fluffy marshmallows into the cascading chocolate, savoring each decadent bite. A visit to Bellagio's Buffet is an experience fit for royalty, where every detail is carefully curated to provide a truly unforgettable dining experience.
Circus Buffet at Circus Circus: Fun and Flavor for All Ages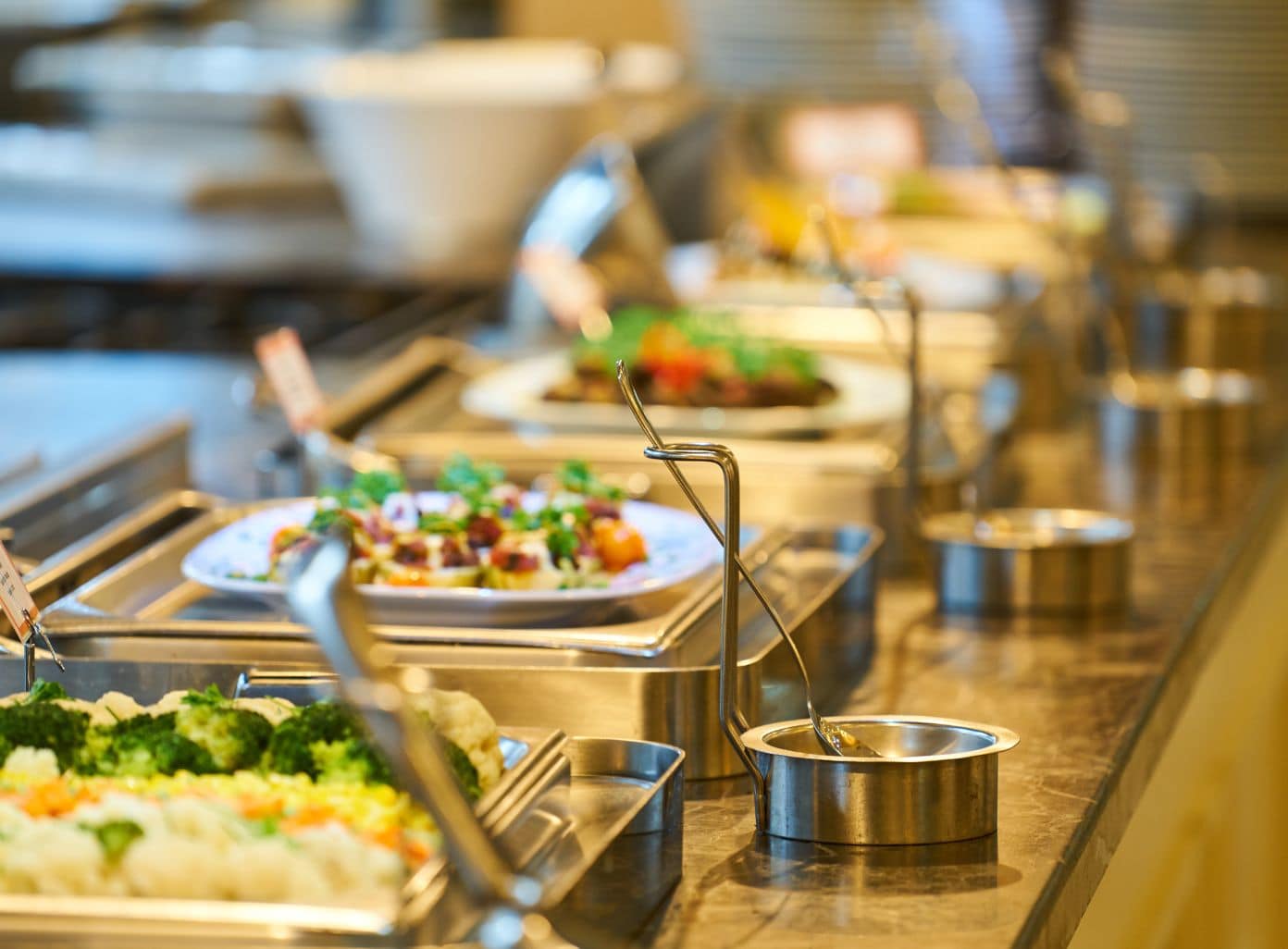 If you're traveling with little ones or seeking a more casual buffet experience, Circus Buffet at Circus Circus is the perfect choice. This family-friendly buffet offers a whimsical atmosphere that will keep children entertained while adults indulge in a variety of flavorful dishes. Step into the vibrant dining area, adorned with colorful circus-themed decorations and playful murals. The sound of laughter and excitement fills the air as families gather around tables, eager to sample the wide array of dishes. From all-American favorites to international fare, there's something to satisfy every palate. Start your meal with a bowl of hearty chicken noodle soup or a plate of crispy chicken tenders. Move on to the carving station, where you'll find succulent cuts of meat that will leave you wanting more. Pair your meal with a refreshing glass of lemonade or a fruity mocktail. Circus Buffet provides a fun and flavorful dining experience for all ages, where the joy of good food and family togetherness come together.
Now that you have the ultimate guide to the best buffets on the Las Vegas Strip, it's time to embark on your culinary adventure. Whether you're a first-time visitor or a seasoned Vegas veteran, these buffets are sure to leave you satisfied and craving more. So grab your appetite and prepare to indulge in the culinary delights that await you in the vibrant and flavorful world of Las Vegas buffets.