Explore the mesmerizing wonders of Zhuhai's Chimelong Ocean Kingdom, a world-class marine-themed park that offers an unforgettable experience for both young and old. With its breathtaking attractions, dazzling shows, and fascinating marine life, this park is a must-visit destination for any nature lover or adventure enthusiast.
Discover the Wonders of Chimelong Ocean Kingdom
Step into the incredible world of Chimelong Ocean Kingdom and prepare to be amazed. This aquatic wonderland is home to a wide variety of marine life, featuring over 200,000 animals from more than 500 species. Whether you are fascinated by the grace of dolphins, the playful antics of sea lions, or the mysterious allure of sharks, this park has it all.
Exploring the Aquatic Marvels at Chimelong Ocean Kingdom
Dive into the mystical depths of the ocean as you explore the amazing exhibits at Chimelong Ocean Kingdom. From the colorful coral reefs to the mysterious underwater tunnels, you can get up close and personal with a diverse array of marine creatures. Marvel at the vibrant schools of tropical fish, witness the majesty of the giant sea turtles, and be captivated by the graceful movements of the stingrays.
For an even more immersive experience, don't miss the chance to interact with the marine life at the touch pools. Feel the velvety smoothness of a passing starfish or gently stroke the back of a friendly sea turtle. These up-close encounters are not only educational but also offer a unique opportunity to connect with these magnificent creatures.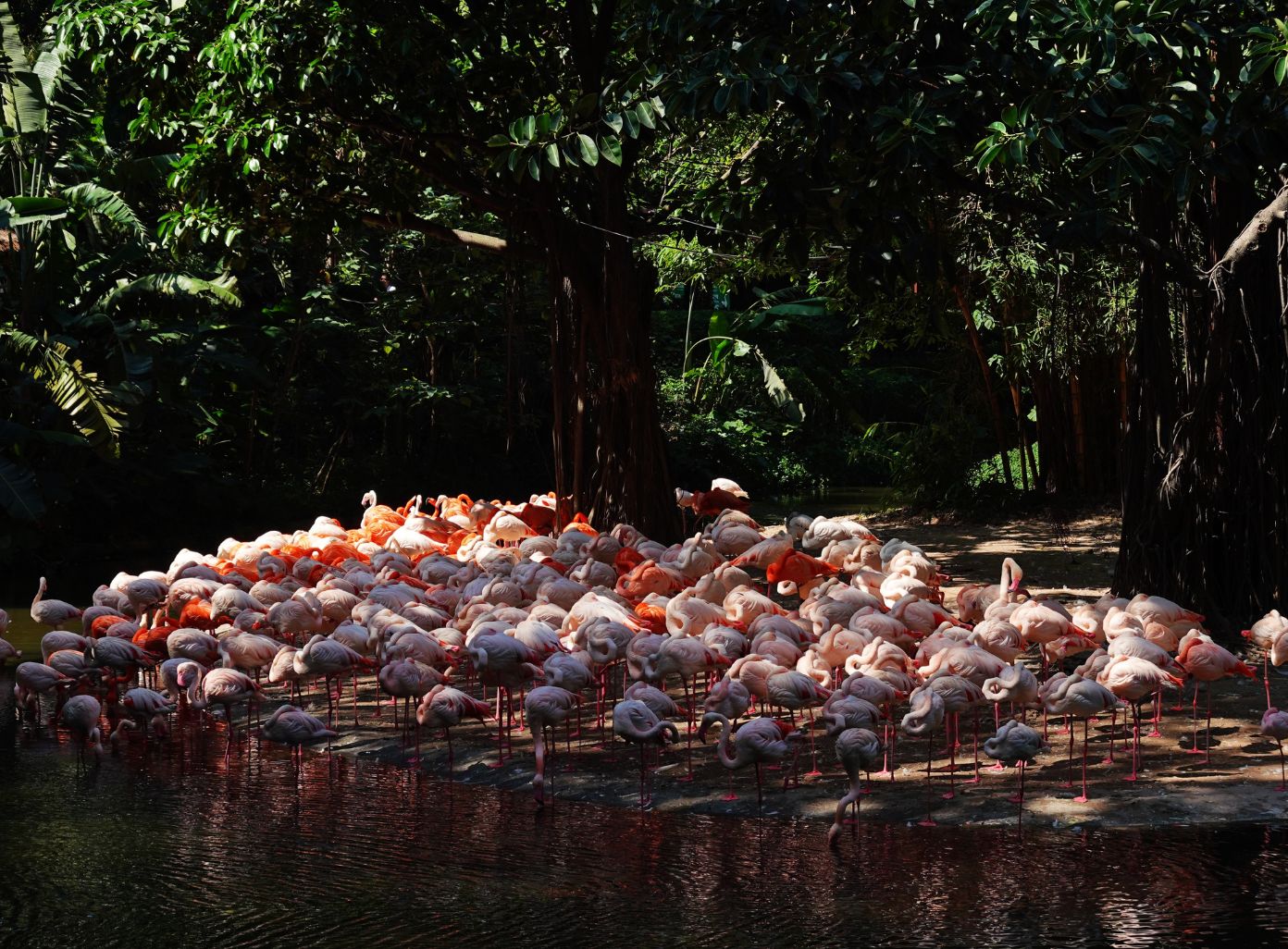 Unveiling the Fascinating Facts about Chimelong Ocean Kingdom
Beyond its captivating displays, Chimelong Ocean Kingdom is also home to several record-breaking attractions that are sure to leave you in awe. One of the park's highlights is the Ocean Kingdom Grand Theater, an architectural marvel housing a state-of-the-art performance venue. Here, you can witness breathtaking shows featuring acrobatics, dance, and stunning visual effects that bring the ocean to life.
The Largest Aquarium in Asia: Awe-Inspiring Facts
Prepare to be amazed by the sheer size of the largest aquarium in Asia, located within Chimelong Ocean Kingdom. Spanning an impressive area of 22.7 million liters, this massive aquarium is home to a wide range of marine life. From graceful bottlenose dolphins to majestic beluga whales, you can witness these incredible creatures gracefully glide through the water in their natural habitat.
Don't miss the opportunity to take a walk through the mesmerizing underwater tunnel, where you can immerse yourself in an awe-inspiring 360-degree view of the vibrant marine life. Be surrounded by schools of fish as they gracefully swim by, and marvel at the beauty of the diverse coral formations.
Must-Try Thrills and Rides at Chimelong Ocean Kingdom
For adrenaline seekers, Chimelong Ocean Kingdom offers an array of thrilling rides that promise to get your heart racing. Embark on a wild adventure aboard the Hair Raiser, a roller coaster that reaches hair-raising speeds and offers breathtaking views of the park and the surrounding area. If you're feeling especially brave, take a plunge down the Abyss Tower, a free-fall ride that will leave you exhilarated.
The Ultimate Guide to the Most Exciting Rides
When visiting Chimelong Ocean Kingdom, be sure to try out the park's most exciting rides. The Polar Explorer is a standout attraction, offering a thrilling virtual reality experience where you can embark on an expedition through the Arctic. Feel the excitement as you zoom past icy glaciers and encounter majestic polar bears along the way.
For a more relaxing but no less enjoyable experience, hop aboard the Ocean Beauty Ferris Wheel. Take in panoramic views of the park and the beautiful coastal landscape as you slowly ascend to new heights. This leisurely ride is perfect for capturing memorable photos and creating lasting memories with loved ones.
Securing Your Tickets for an Unforgettable Experience
Before embarking on your adventure at Chimelong Ocean Kingdom, it's important to secure your tickets in advance to ensure a seamless experience. The park offers a range of ticket options to suit different preferences and budgets. From single-day passes to multi-day passes, you can choose the option that best fits your schedule.
Ticket Options and Pricing at Chimelong Ocean Kingdom
For the ultimate convenience, consider purchasing a Fast Track ticket, which allows you to skip the long lines and enjoy priority access to the park's most popular attractions. These tickets are limited in number, so be sure to book them early to avoid disappointment. Additionally, keep an eye out for special promotions and discounted tickets that may be available during certain times of the year.
Upon arrival at Chimelong Ocean Kingdom, you can expect a smooth and efficient entrance procedure that ensures a hassle-free start to your day. The park is well-organized and equipped with modern facilities to ensure a comfortable experience for all visitors.
What to Expect When You Arrive at Chimelong Ocean Kingdom
Before entering the park, be sure to familiarize yourself with the security procedures and guidelines to ensure a smooth entry. Bags may be subject to inspection, so it's best to travel light and only bring essential items. Once inside, you will find clear signposts that guide you to various attractions and facilities within the park, making navigation a breeze.
It's also worth noting that Chimelong Ocean Kingdom offers a variety of dining options to satisfy your hunger during your visit. From casual cafes to stylish restaurants, you can indulge in a wide range of cuisines, including local Chinese delicacies and international favorites.
Insider Tips for an Amazing Visit to Chimelong Ocean Kingdom
To make the most of your visit to Chimelong Ocean Kingdom, here are some insider tips to enhance your experience:
Maximizing Your Experience: Pro Tips for Travelers
Arrive early in the morning to beat the crowds and enjoy shorter wait times for popular attractions. Take advantage of the park's Fast Track options to get the most out of your day. Bring sunscreen, a hat, and comfortable shoes as you will likely be spending a significant amount of time outdoors. Be sure to check the daily show schedule and plan your day accordingly so you don't miss any of the mesmerizing performances.
Getting to Chimelong Ocean Kingdom: Your Travel Guide
Getting to Chimelong Ocean Kingdom is a breeze, thanks to its convenient location and various transportation options available.
Convenient Shuttle Buses: The Best Way to Reach the Park
If you're staying in Zhuhai or nearby cities, taking the park's shuttle buses is a convenient and hassle-free option. These buses operate regularly and allow you to reach the park directly without the need for transfers or parking hassles.
Traveling from Hengqin Port: A Step-by-Step Guide
If you're arriving from Macau or Hong Kong, consider taking a ferry to Hengqin Port. From there, you can easily reach Chimelong Ocean Kingdom via a short taxi or bus ride. This option provides a scenic journey and allows you to combine multiple attractions in the area.
From Macau to Chimelong Ocean Kingdom: Transportation Options
If you're starting your journey from Macau, you have several transportation options to reach Chimelong Ocean Kingdom. You can take a taxi or hire a private car to directly transport you to the park. Alternatively, you can take a bus or use the convenient cross-border transportation services available.
In conclusion, Chimelong Ocean Kingdom offers an unrivaled experience for adventure seekers and nature enthusiasts alike. From the captivating marine exhibits to the thrilling rides and convenient transportation options, every aspect of your visit is designed to leave you in awe. So, pack your bags, grab your ticket, and get ready to unveil the spectacular wonders of Zhuhai's Chimelong Ocean Kingdom.