Clearwater Beach is a popular destination in Florida known for its pristine beaches and crystal clear waters. Whether you're driving, flying, taking a train, or bus, we've put together a step-by-step guide to help you plan your trip to Clearwater Beach. From the best times to visit to accommodation options, transportation services, and how to navigate the area, keep reading to discover everything you need to know to make your journey a success.
Planning Your Trip to Clearwater Beach
Clearwater Beach is a stunning vacation destination located in Florida. With its white sand beaches, crystal clear waters, and endless sunshine, it's no wonder why Clearwater Beach is a popular spot for tourists. In this guide, we'll cover everything you need to know to plan your perfect trip to Clearwater Beach.
Best Time to Visit Clearwater Beach
Clearwater Beach experiences warm weather almost year-round, with temperatures ranging from the mid-60s to the mid-90s. However, the peak tourist season typically runs from February through April when the weather is less humid and more manageable for outdoor activities. Avoid the crowds and higher prices by visiting in the early fall or late spring.
During the summer months, Clearwater Beach can get quite hot and humid. However, if you're looking for a beach vacation, this is the perfect time to visit. The water is warm and inviting, and there are plenty of outdoor activities to enjoy, such as jet skiing, parasailing, and paddleboarding.
Accommodation Options in Clearwater Beach
Clearwater Beach offers an array of accommodation options, ranging from luxurious resorts to budget-friendly hotels and motels. Some popular choices include Hilton Clearwater Beach Resort & Spa, Wyndham Grand Clearwater Beach, and Opal Sands Resort. These resorts offer stunning views of the Gulf of Mexico, as well as luxurious amenities such as spas, pools, and restaurants.
If you're on a budget, check out The Beachview Hotel, Beachwalk Inn, or Palm Pavilion Inn. These hotels offer comfortable rooms at an affordable price, and they're just a short walk from the beach. Booking your accommodation in advance will help you secure the best deals.
Must-See Attractions in Clearwater Beach
Clearwater Beach is famous for its beaches, but there's much more to see and do. Visit the Clearwater Marine Aquarium to see dolphins, sea turtles, and other marine life up close. The aquarium is also home to Winter the Dolphin, who starred in the movie Dolphin Tale.
Take a stroll down the Beach Walk Promenade, which stretches for 2.5 miles and offers amazing views of the Gulf of Mexico. The promenade is lined with shops, restaurants, and bars, making it the perfect spot for a leisurely afternoon walk or a romantic evening out.
If you're in the mood for shopping, check out the open-air style Clearwater Beach Walk. This shopping district features a variety of stores, including clothing boutiques, souvenir shops, and art galleries. There are also several restaurants and bars in the area, so you can grab a bite to eat while you shop.
Other must-see attractions in Clearwater Beach include Pier 60, which is a popular spot for fishing and watching the sunset, and Captain Memo's Pirate Cruise, which is a fun and interactive boat tour that's perfect for families.
With its beautiful beaches, warm weather, and endless activities, Clearwater Beach is the perfect vacation destination. Whether you're looking for a romantic getaway or a fun-filled family vacation, Clearwater Beach has something for everyone. Start planning your trip today!
Transportation Options to Clearwater Beach
Driving Directions from Nearby Cities
Clearwater Beach is easily accessible by car, with well-maintained highways connecting it to nearby cities. Interstate 275 runs through the heart of Clearwater Beach, making it easy to get to from Tampa, St. Petersburg, and Sarasota. From Tampa, take the I-275S and take exit 30 for FL-686W to Clearwater Beach. From St. Petersburg, take the I-275N and take exit 31 for FL-688 to Clearwater Beach. From Sarasota, take the I-75N and take exit 228 for I-275N to Clearwater Beach.
Parking Options at Clearwater Beach
Clearwater Beach has many public and private parking lots, but on peak season days, parking is limited. Expect to pay hourly rates for parking or purchase a parking pass if you plan on staying a few days. If you're staying in a hotel, check to see if they offer free parking.
Nearest Airports
The nearest airports to Clearwater Beach are St. Pete-Clearwater International Airport and Tampa International Airport. St. Pete-Clearwater International Airport is approximately 13 miles from Clearwater Beach, while Tampa International Airport is about 20 miles away.
Airport Transfers and Shuttle Services
Many hotels and resorts offer airport transfer and shuttle services for a fee. Alternatively, you can rent a car or take a taxi or rideshare service from the airport to Clearwater Beach. The estimated time from both airports to Clearwater Beach is approximately 30 minutes.
Train and Bus Stations Near Clearwater Beach
The closest train station to Clearwater Beach is Amtrak Station located in Tampa. From there, you can take a taxi or bus to Clearwater Beach. The closest bus station to Clearwater Beach is located in downtown Clearwater with multiple bus routes that stop at various locations in the city.
Schedules and Ticket Information
Please check online for updated schedules and ticket prices for trains and buses. Greyhound and Amtrak offer services to and from Tampa with routes stopping at various cities in Florida and across the nation. The Pinellas Suncoast Transit Authority (PSTA) offers public transportation in Clearwater Beach and throughout Pinellas County.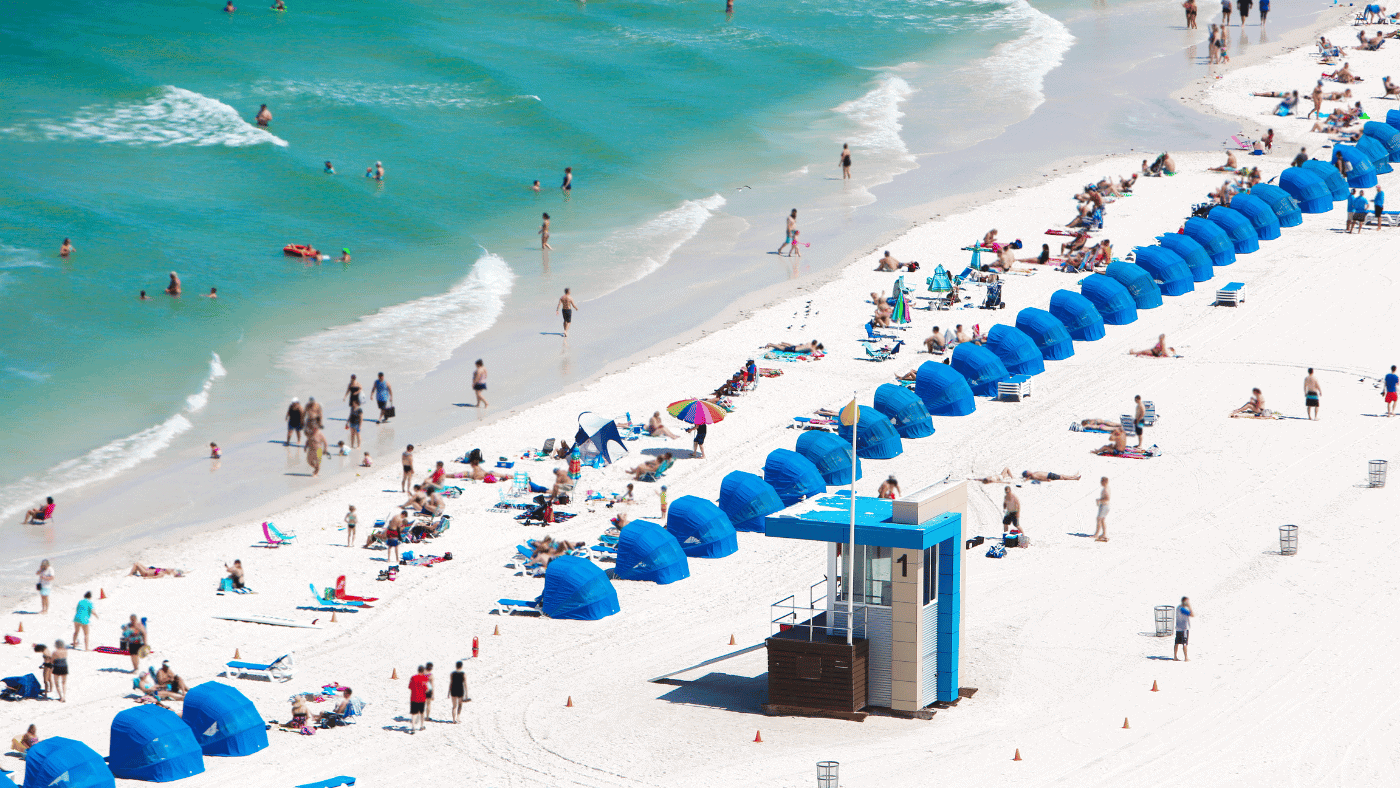 Trolley Services
The Jolley Trolley is one of the most popular modes of public transportation in Clearwater Beach. It operates from early morning until late at night and is an affordable way to see the area's key attractions.
Bus Routes
The Pinellas Suncoast Transit Authority (PSTA) also provides bus services in Clearwater Beach. The buses connect Clearwater Beach to other areas of the county, including St. Petersburg and Tampa.
Bike and Scooter Rentals
Renting bikes and scooters is an affordable and convenient way to explore Clearwater Beach. You can rent them by the hour, day, or week at various local shops. Always wear a helmet and follow traffic rules to ensure your safety.
Walking and Exploring on Foot
Clearwater Beach is a pedestrian-friendly area with plenty of sidewalks and walking trails. You can stroll along the beach promenade or take a walk around the beach neighborhoods in the area. Walking and exploring on foot is a great way to get exercise and take in the surrounding scenery.
Conclusion
No matter how you choose to get to Clearwater Beach, following this step-by-step guide will help you plan a successful trip. Remember to book accommodation in advance, check parking options, and consider public transportation to make navigating the area a breeze. With its breathtaking beaches, outdoor activities, and vibrant atmosphere, Clearwater Beach is an unforgettable destination perfect for a fun-filled vacation.