Washington DC has become a hub for bottomless brunch culture, with an array of options to satisfy everyone's taste buds. Whether you're a foodie looking to indulge in some gourmet dishes or a booze enthusiast looking to get your fill of mimosas, there's something for every brunch lover. Here's a comprehensive guide to help you discover the best bottomless brunch spots DC has to offer.
Why Bottomless Brunch is a Must-Try in DC
Bottomless brunch has become a quintessential experience for many Washingtonians, especially on weekends. It's the perfect opportunity to catch up with friends, enjoy some delicious food, and drink to your heart's content. There's something special about sipping mimosas while taking in the city's stunning architecture and bustling streets.
The Rise of Bottomless Brunch Culture
The concept of bottomless brunch has gained immense popularity in DC over the years. The idea involves unlimited food, drinks, and fun, all at an affordable price. The rise of this culture has given rise to some incredible brunch spots in DC, all vying for top honors with great food and endless drink options that appeal to all palates.
One of the most popular bottomless brunch spots in DC is Founding Farmers, which offers a farm-to-table experience with unlimited drinks. Their menu features classic brunch dishes like eggs benedict and pancakes, as well as unique options like chicken and waffles and shrimp and grits.
Another great option is Ambar, a Balkan restaurant that serves up unlimited small plates and drinks. Their brunch menu includes traditional Balkan dishes like burek (a savory pastry filled with meat or cheese) and cevapi (grilled sausages), as well as more familiar brunch fare like French toast and omelettes.
Unique DC Brunch Experiences
If you're looking for a unique brunch experience, DC has some unforgettable options. From brunch cruises to drag queen shows, there is no shortage of exciting ways to spend your weekend mornings. The city's diverse culture and vibrant food scene have paved the way for innovative and creative brunch concepts.
One of the most unique brunch experiences in DC is the Boomerang Boat Brunch, a two-hour brunch cruise on the Potomac River. Guests can enjoy bottomless mimosas and a buffet-style brunch while taking in views of the city's iconic landmarks like the Washington Monument and the Lincoln Memorial.
For a more unconventional brunch experience, check out Nellie's Sports Bar's Drag Brunch. This weekly event features a drag show with performances by some of the city's best drag queens, along with a brunch buffet and bottomless drinks.
No matter what your brunch preferences are, DC has something for everyone. So gather your friends and make a reservation at one of the city's many bottomless brunch spots for a morning of delicious food, bottomless drinks, and unforgettable memories.
Top Neighborhoods for Bottomless Brunch
DC has many neighborhoods that offer fantastic bottomless brunch options. Here are a few top neighborhoods:
Georgetown
Georgetown has some fabulous brunch spots, especially if you're a fan of classic American fare. You can expect traditional dishes such as biscuits and gravy or pancakes, but with creative twists that result in a delightful culinary experience. The waterfront views also add to the charm.
Dupont Circle
Dupont Circle is one of DC's most vibrant neighborhoods and is known for its eclectic food scene. The area offers a range of brunch options, from Middle Eastern cuisine to gourmet burgers and Mexican dishes. You can expect lively crowds and plenty of top-notch bottomless brunch deals.
Capitol Hill
Capitol Hill offers a host of unique and historic brunch locations. You can enjoy brunch in a converted church or a beautiful colonial mansion while sipping on bottomless mimosas. The area also has lots of cute coffee shops and cafes if you're looking for a more relaxing setting.
Adams Morgan
Adams Morgan is home to some of DC's best bottomless brunch spots, with a focus on international cuisine. You'll find everything from Mediterranean to Ethiopian foods. The area also has numerous bars, making it a perfect choice for those looking to extend their weekend festivities.
U Street Corridor
The U Street Corridor is well-known for its live music and nightlife scene, but it also has some excellent brunch options. From classic diners to Ethiopian cuisine, the neighborhood has something for everyone, including some excellent bottomless brunch deals.
Best Bottomless Brunch Spots in DC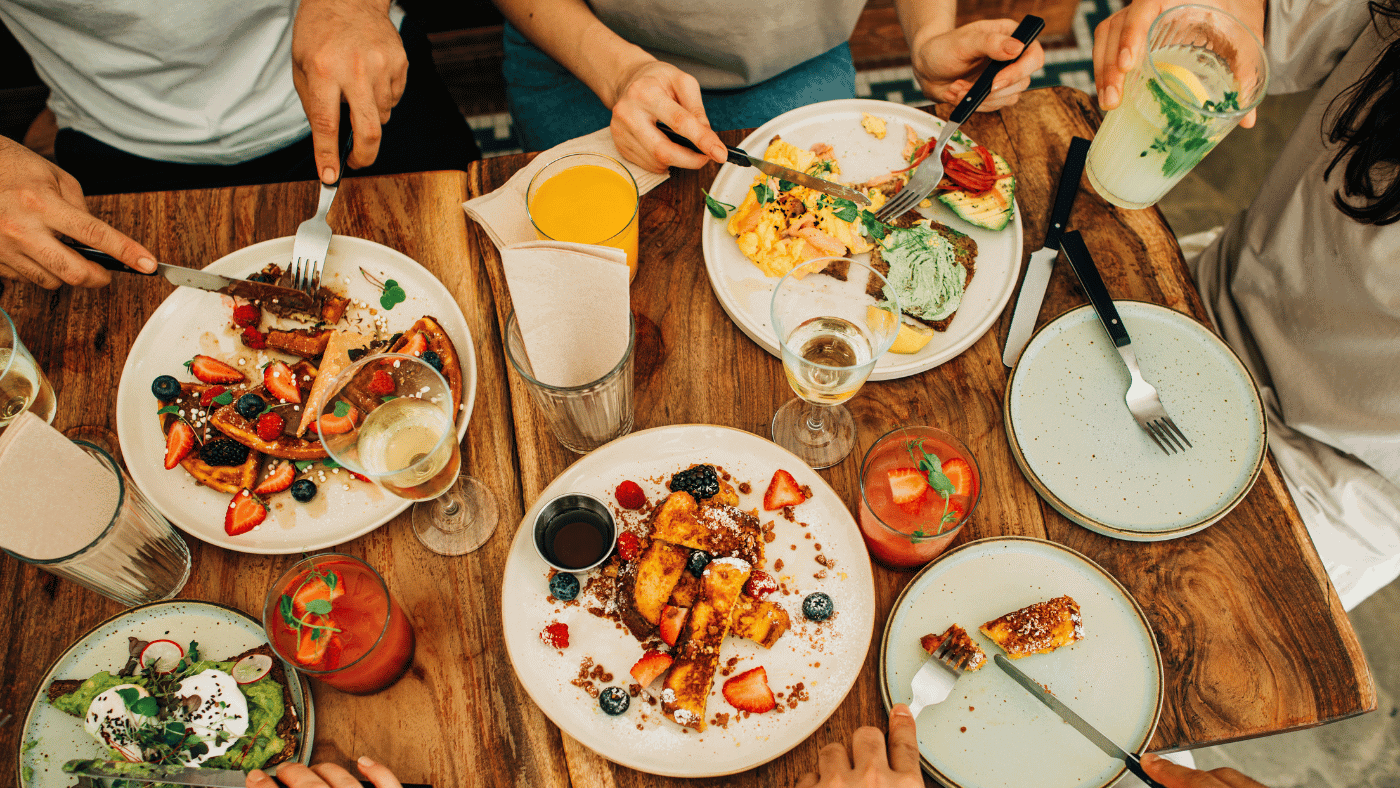 The Ultimate Foodie Experience
If you're a foodie and looking for a bottomless brunch experience that goes beyond the ordinary, Le Diplomate is the perfect spot. This French brasserie serves up classic French dishes with a modern twist, such as croque-madame and steak frites. The bottomless brunch includes unlimited mimosas and Bloody Marys that pair perfectly with your meal.
For the Boozy Brunch Enthusiast
If drinking is the main attraction of your bottomless brunch, look no further than The Bottom Line. The restaurant offers an all-you-can-drink option that includes beer, wine, and mimosas, making it perfect for those who want to enjoy an endless supply of libations. The food menu does not disappoint either, with classic American dishes such as burgers and fries that pair well with your chosen drink.
Family-Friendly Options
If you're looking for a family-friendly brunch spot, Founding Farmers is the perfect choice. This farm-to-table restaurant offers an all-day breakfast menu that includes hearty dishes such as chicken and waffles and biscuits and gravy. The bottomless brunch option includes mimosas, Bloody Marys, and even freshly squeezed orange juice for the little ones.
Budget-Friendly Choices
For those on a budget, there are still plenty of great options for bottomless brunch in DC. All Set Restaurant and Bar offer an affordable option for bottomless brunch, with a menu that includes classic brunch dishes such as pancakes and omelets. The bottomless brunch also includes bottomless mimosas, making it a great value for money.
Brunch with a View
If you're looking for a beautiful view while you enjoy your bottomless brunch, head to Tony and Joe's Seafood Place. Located on the Georgetown waterfront, this restaurant offers stunning views of the Potomac River. The bottomless brunch includes classic brunch dishes and mimosas, and you can enjoy the view from their outdoor seating area.
With so many fantastic options, Washington DC is undoubtedly one of the best places in the country for bottomless brunch. Whether you're looking for a boozy brunch with friends, a family-friendly meal, or a unique dining experience, the city has it all. So head out and discover the best bottomless brunch spots in DC. Cheers!