Are you looking for an adventure filled with beautiful beaches, crystal-clear waters, and tropical palm trees? Look no further than Peanut Island. This small island gem, located on Florida's Gold Coast, is a must-visit destination for anyone looking to escape the hustle and bustle of everyday life.
Understanding Peanut Island
Peanut Island is a hidden gem nestled in the heart of Palm Beach County, Florida. It is a small, man-made island that has a rich history and offers a plethora of activities for visitors to enjoy.
History of Peanut Island
The history of Peanut Island dates back to the 1940s when it was created after dredging a channel through the nearby Lake Worth Inlet. The island was initially used as a disposal site for rocks and sand, but it later became a secret spot for President John F. Kennedy to escape to when he was in Florida.
During the Cold War, the island was used as a top-secret location for the President and his staff. The Kennedy Bunker, which is located on the island, served as a bomb shelter for President Kennedy in the event of a nuclear attack. Visitors can explore the bunker and learn about its fascinating history.
What to do on Peanut Island
Today, Peanut Island is a popular destination for locals and visitors alike. It features a beautiful beach, picnic areas, hiking and biking trails, and plenty of water activities such as snorkeling, fishing, and kayaking.
The crystal-clear waters surrounding the island are home to a variety of marine life, including colorful tropical fish and sea turtles. Visitors can rent snorkeling gear and explore the vibrant underwater world.
Fishing enthusiasts can cast their lines from the shore or rent a boat and head out into the open waters. The island is known for its abundant fish population, including snapper, grouper, and sailfish.
Kayakers can paddle through the calm waters and explore the island's hidden coves and inlets. The island's hiking and biking trails offer breathtaking views of the surrounding ocean and the nearby Palm Beach Inlet.
Why Visit Peanut Island?
Whether you're a history buff, an outdoor enthusiast, or just looking for a relaxing day at the beach, Peanut Island has something for everyone. It offers a chance to experience Florida's rich history and natural beauty all in one place. So, pack a picnic, grab your sunscreen, and head over to Peanut Island for a day of fun in the sun!
Preparing for Your Peanut Trip
Best Time to Visit Peanut Island
The best time to visit Peanut Island is between October and May when the weather is milder, and the crowds are smaller. However, if you don't mind the heat and humidity, the island is open year-round.
If you're planning to visit during peak season, which runs from June to September, make sure to book your accommodations in advance. The island can get crowded during this time, and it's not uncommon for hotels and campsites to fill up quickly.
While the weather may be more comfortable during the off-season, keep in mind that some of the island's amenities, such as the snack bar and water sports rentals, may have limited hours or be closed altogether.
What to Pack
When visiting Peanut Island, it's crucial to pack the right items. Make sure to bring plenty of sunscreen, a hat, sunglasses, and insect repellent. Comfortable shoes are a must for those planning to explore the island's hiking trails. Don't forget to bring a towel, swimsuit, and a change of clothes for water activities.
If you plan on snorkeling or scuba diving, consider bringing your own gear. While rentals are available on the island, having your own equipment ensures a better fit and reduces the risk of sharing germs with other visitors.
For those planning to camp on the island, be sure to pack a tent, sleeping bag, and camping stove. The island has designated camping areas, but amenities are limited, so it's important to come prepared.
Safety Tips and Precautions
While Peanut Island is generally a safe place to visit, it's important to take precautions to avoid any accidents or injuries. Visitors should be aware of their surroundings and avoid wandering off designated trails. Keep a safe distance from wildlife and be cautious when swimming or participating in water activities. Always follow posted signs and obey park rules.
It's also a good idea to bring a first aid kit with you in case of minor injuries. The island's only medical facility is a small clinic, and more serious injuries may require a trip to the mainland.
Finally, be mindful of the sun and heat. Drink plenty of water, take breaks in the shade, and avoid strenuous activity during the hottest parts of the day. Heat exhaustion and heatstroke are serious conditions that can be prevented with proper hydration and rest.
Transportation Options to Peanut Island
By Car
If you're driving to Peanut Island, there is a parking lot available at the Riviera Beach Marina. The parking fee is $5 per vehicle, and a shuttle boat can take you to the island for an additional $12 per person round trip.
By Boat
Boaters can dock at Peanut Island's designated dock area for a fee of $10 per day. Water taxis are also available from surrounding marinas and can provide transportation to the island for a fee.
Public Transportation
Palm Tran, the county's public transportation system, offers a bus that stops at the Riviera Beach Marina. From there, visitors can take the shuttle boat to Peanut Island.
Guided Tours
If you're looking for a stress-free way to get to and from Peanut Island, consider taking a guided tour. Many tour companies offer transportation to the island and provide guided tours of the area.
Navigating Peanut Island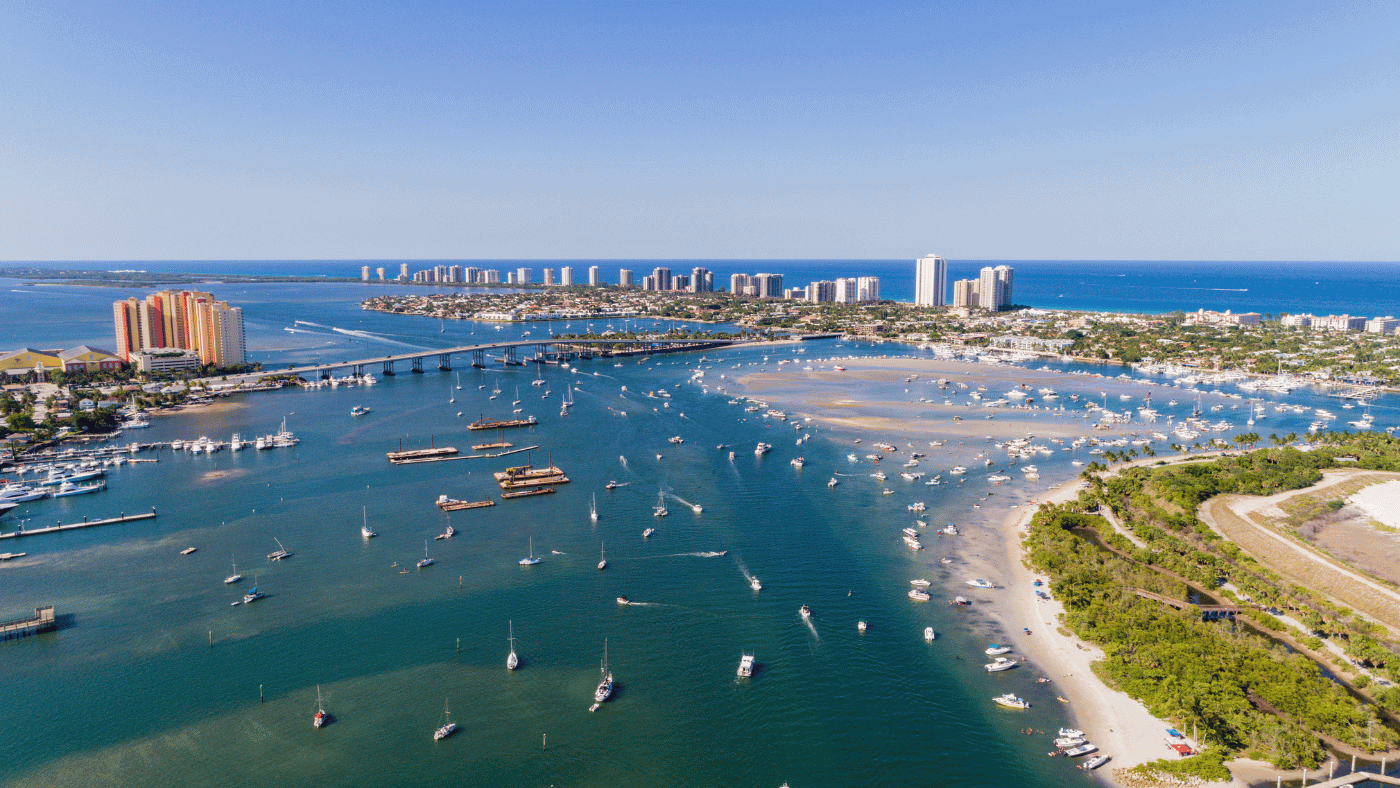 Exploring the Island on Foot
Peanut Island has several hiking trails that are well marked and easy to navigate. The trails offer stunning views of the island's wildlife and natural landscape. Visitors can also explore the Kennedy Bunker and learn more about the island's history.
Bike Rentals and Trails
If you're looking for a more active way to explore the island, consider renting a bike. There are several bike rental companies available at the Riviera Beach Marina. The island features several biking trails that offer a challenging but rewarding experience.
Water Activities and Rentals
Peanut Island is a popular destination for water activities such as snorkeling, fishing, and kayaking. Visitors can rent equipment at the island or bring their own. The island is home to a variety of marine life, making it an excellent spot for snorkeling and fishing enthusiasts.
Getting to Peanut Island may seem daunting at first, but with a little planning and preparation, it's an adventure that's worth taking. Whether you're looking for a peaceful day at the beach or an exciting day filled with water activities, Peanut Island has something for everyone. So pack your bags, grab your sunscreen, and get ready to explore one of Florida's most beautiful natural wonders.